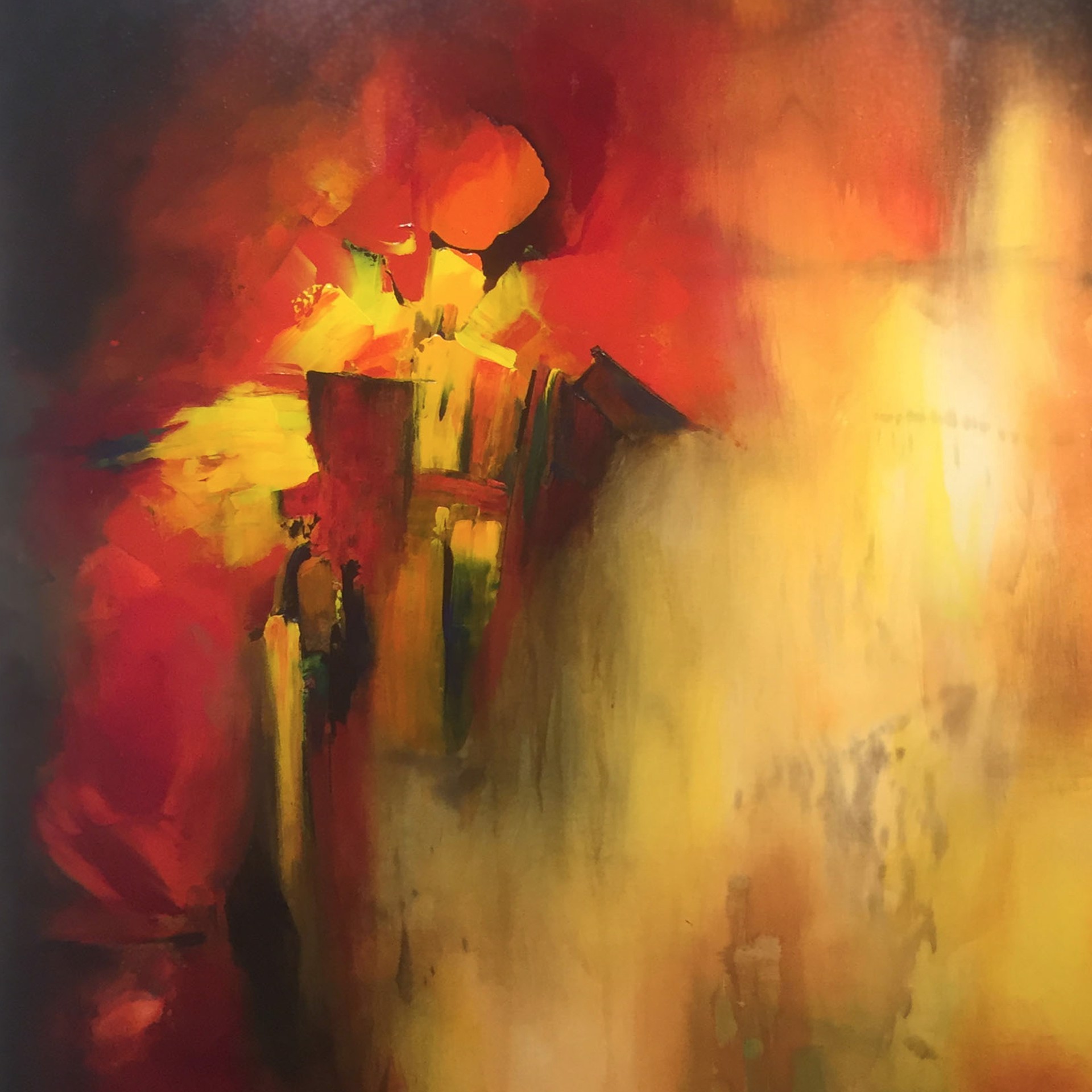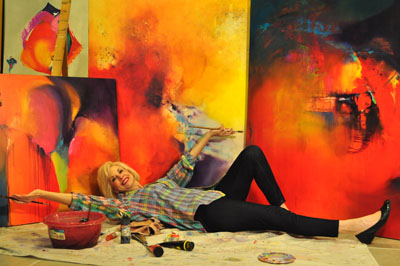 "You'd probably require extensive therapy if you crawled into the brain of an abstract artist! Everything gives us inspiration. I'll see a hue made by the shimmer of spilled oil, a shadow shape created by sunlight hitting an object, or a texture that compels me to touch and investigate. Add in an obsession with color and experimentation with asymmetrical balance, and you've got a wide creative streak which recognizes no boundaries.

It's amusing and thrilling for me to have been juried into the Oklahoma City Arts Festival for a number of years, as people visit my booth and tell me exactly what they think. Their assessment of abstract art leaves me exhilarated, laughing, or sometimes wounded! But that's art for you.

My Oklahoma City studio is flooded with sunlight and there I have the delicious freedom of immersing myself in the creative process. Acrylic paint is my medium, and like a mad scientist, I brew up new colors.

Actually, I do have a life in that my husband and I are the parents of three grown and married children, and the resulting nine adorable grandchildren. I've written a weekly humor/travel/social column for FRIDAY, a local newspaper for over twenty years, and spent years being active in our philanthropic community.

My paintings hang in homes, galleries and public buildings across the country. Hope you enjoy my work, please call if I can help you."
Biography:
"Art lovers tell me that my paintings make them happy. COLOR! My world is all about color! Lively pigments spark my life. Dreams in vivid tones saturate my mind at night and I can't wait to awaken and splash my latest "mental hue" across a canvas. That just might be the reason that others have defined me as a "colorist." These paintings are mine alone. Acrylic is my medium as I'm able to finesse from one subtlety of hue to another with the inherent blending properties of acrylics.

Energetic tone and texture intertwine uniquely against a serene backdrop, often with a saucy jolt that leaves the viewer ruminating about why he is uplifted. My works have a timeless appeal, as there is no discernable object identified. The nuances that occur while blending my own color combinations create unprecedented new shades for which the dictionary hasn't names yet!

Balance in a painting is critical, whether it be symmetric or asymmetric, and for that there's no rule – just an internal feeling of "rightness". Turning my paintings in all directions, I'm not satisfied until the equalization of "color weight interest" shows parity. I sign my paintings up the right hand side, which is part of the balance. Sometimes people think I've hung a painting the wrong way! Viewers stand back and squint, telling me what they see. Their reaction is usually a mood adjective – festive, mellow, energized, pensive, jubilant, or peaceful, – but not a "noun word."

Tools for my work vary from wee teeny brushes to wide big fat bristles to all sizes of palette knives, creating many layers of color, which give an infinite variety of tones. My works are often unframed, using a thick gallery-edged canvas. Using finishing coats, I seal the final product so it won't yellow or change.

As with most artists, I'm ever evolving, developing interesting textures, new colors and use of space and techniques. I'd be interested in what YOUR imagination sees in my work – do you find it sentimental? compelling? soul-stirring, happy – or, as I do, do you just bask in color?"
Read More